CNBS – a Cincinnati-based SAP solutions provider – has entered into a partnership with
Digicommerce
, a digital agency based in Montreal, Canada with offices in New York, Australia and Vietnam. This agreement marks the beginning of an eCommerce partnership between two of North America's most innovative SAP eCommerce experts. Both companies share significant expertise and experience in eCommerce, payments and omnichannel solutions.
Shared Vision
Both companies have a shared vision and are trusted SAP partners in eCommerce solutions for B2B and B2C. CNBS provides hybrid B2B and B2C integration solutions, which recognize the complexity of today's client needs. Hybrid B2B and B2C storefronts are often challenging. With support for dynamic catalogs and store templates, we provide a unified experience that automatically adapts to either a B2B or B2C storefront based on the active user. We have the solutions and expertise for robust and dynamic customization including custom branding, marketing automation, SEO, Punch-Out, CRM and shipping integrations.
Client Base
CNBS undertakes real-time SAP integration presenting omnichannel solutions to a demanding client base. Under Armour, Sharp, Firestone and many other global household names trust CNBS's approach to integration. Like DigiCommerce, the objective is maximizing business efficiency and overall profitability. On the payments side, we have designed an ECC-integrated online payment solution for its clients.
CNBS caters to small to mid-sized  (SMB) enterprise companies that seek to increase efficiencies and lower their operating cost. Therefore, we make SAP data easily accessible and even easier to use. Additionally, the customer satisfaction records and client referral rates show our in-house staff expertise. Omnichannel customer friendly solutions, which also work offline, are very attractive to SMBs and enterprise level firms.
The DigiCommerce and CNBS partnership sees a collaboration between two businesses operationally and technologically aligned.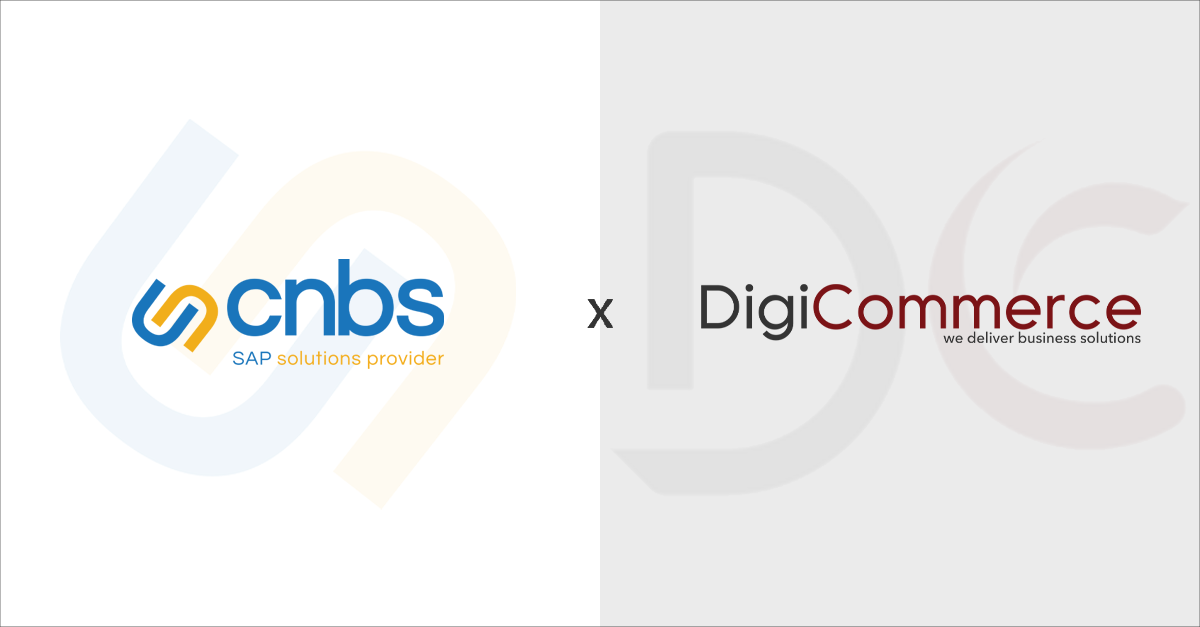 About Digicommerce
DigiCommerce, as the corporate name applies, centers on their expertise in the very active eCommerce business environment. The company is a full-service agency that excels in providing personalized content and commerce solutions for varying sized businesses. They can provide strategy and implement content and commerce solutions through all touchpoints (Omni-channel), whether it be Marketing sites, Social Media, Video, or integrating B2C, B2B or B2B2C. Their team of experts have a proven ability to successfully analyze an organization's critical business requirements and recommend the appropriate innovative ideas to help clients in their digital transformation.
The Digicommerce global business model spans from North America to Asia, and continues to employ eCommerce savvy technical individuals that have specific digital skill sets and eCommerce expertise.
About CNBS and WECO E-Commerce
Founded in 2009, CNBS Software is an SAP solutions provider specializing in real-time integration for eCommerce, Payments, and Mobile solutions. The global team of SAP consultants, Project Managers, and developers have over 30 years combined SAP experience and work with a wide variety of clients, across many industries.
WECO is a "Plug and Play" eCommerce platform for ECC & S/4 HANA. It is a cost-effective eCommerce platform designed for B2B and B2C purposes. WECO E-Commerce integrates directly into our client's existing SAP ERP environment to provide real-time data and accuracy. It takes advantage of custom SAP enhancements or user exits right out of the box. This SAP centric solution adds eCommerce web stores directly to your current SAP ERP systems.
You can learn about WECO in our Ultimate Guide to SAP eCommerce.